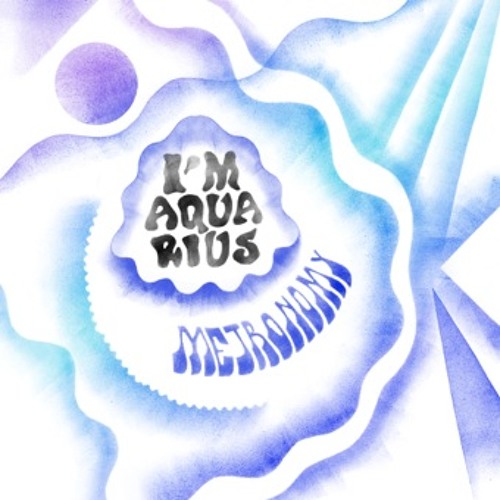 The summer of love has come early...or late...or just around the right time...but not quite. Ummmm...yeh, hard to make heads or tails of this one - a single unveiled in the Autumn/Winter transition of 2013 that in actuality relates to a 2014 release for dance-friendly, pop enthusiast Joe Mount a.k.a. Metronomy. Yes, love seems to be the message cast forth by Mount on this his forth studio album in band formation. But while the imagery and promotional art may conjure 60's swingers and wavy long-hair, feel free to look to the more contemporary with-the-times necessity of the album providing an accompanying app with which fans were encouraged to point their phones at the constellation of the same name to experience first-hand Mount's star-referencing but floor-staring fling into the theme of love - devoid of its regular rosy-eyed, screen-flaring joy and instead addressing a similarly blooming but harder impact of disenchatment.
I'm Aquarius fits neatly in-between the spectrum of satisfied and disappointed, in what is a three minute loosening of pop charisma devoid of the unnecessary window dressing and need for closer public attention. Metronomy finds its dance-lenient rhythms stripped to their barebones; a solitary beat that's as crisp and as refined any percussion machine can vie for, casting a chill into Mount atypically British conservedness-mixed-with-reclusion. And as it slowly opens itself out to invite further recluse electronics to reflect, Mount talks of the despondency, but more-so of the disbelief that...yes, even this constellation-fixated match is sadly at an end.
Thus, fuelled by a trail of parting events - constant reminders of one's differences adding a splash of melancholy to a dance-pop reflection slowly coming to terms with its own company - Metronomy's late evening blanket of beats, bass and synth keys end up casting a looming trail in its wake. Taking one look at the track-listing and there's countless reasons to suggest the concept(s) of love tackled are promisingly less sweet and sugar-coated than most pop ballads. Most of all though, it may likely be stirring a record that could well be Metronomy's most delicate but vulnerable detailing to date. For the time being, bask in the rosy paradigm of conflicts with 60's typeface atop common-day romantic naivety. Love Letters is out March 10th through Because Music.
~Jordan Helm