With the festive joy of groove and contributions from electronic favourites Caribou, Apparat & Matthew Dear, Berliner DJ Koze's first [solo] album in eight years was a triumphant blend of psychedelic wavers and House sharpness. But the great asset to Amygdala amid its gala of guest contributors and successive bonds, was its ability to keep its listener continually on their toes whilst maintaining the kind of stable mind-set we've come to expect from said producers. Thus, despite the spotlight landing neatly on the repetition and pattern of beats, the focus offered barely any dull opportunities for Koze to slacken his optimistic ventures. On an album as charismatic and colourfully bound as this, it was ultimately one that gave Germany's techno prominence one more avenue to explore.
~Jordan Helm
39. The National - Trouble Will Find Me
The National have always been a feels artist - they suck the happiness out of me every time. Trouble Will Find Me is the outcome of accumulating National albums. High Violet improved on the emotional repertoire of Boxer, and it's now time for The National to take their following and sad-U2 style to give the audience back an influence. "Don't Swallow the Cap" offers that extraordinary two chord simplicity The National are NOT known for, and it takes the listener down a path of krautrock fused 90s alternative rock. It's not just about "Don't Swallow the Cap" though, Trouble Will Find Me is the complete package for any fan of past The National, and for the 80s U2 listener.
~Eddie Gibson
38. Ex Cops - True Hallucinations
It would not be the last and only time that listeners would marvel at a male-female musical dynamic that Ex Cops provided on their low-key, but provocatively-rich debut True Hallucinations, this year. Combining the textural depth of shoegaze, the hazy squints of lo-fi production as well as velveteen melodies found commonly in dream pop, Ex Cops' 31-minute record had as much the same umph! and dexterity for passion as any forty/fifty minute equivalent. In result, the slightly shorter but maxed delivery of Brian Harding & Amalie Brunn's faint-but-presiding deliveries perfectly captured the music's monochromatic setting as well as its flexibility for simple leads, without losing any of the album's immediate and muscling appeal.
37. Cloud Boat - Book of Hours
If there was an accolade for a concert 'warm up' bettering the main act, Cloud Boat would certainly take that prize. Having found themselves prepping crowds for James Blake's live showcases, Book of Hours was a far better usage of muttering electronics and tangled stretches of vocals this year. With the sincerity of Tom Clarke's vocals & Sam Ricketts' softening guitars and synthesizers, the London-based duo far outweighed many hushed acts this year. But the greatest achievement in Cloud Boat's methodology was the swiftness and ease of which the duo passed from minimal layering to glaring simplification, and back again amid the album's tomb of dark confines. With Drean the shining diamond in a void of rough space, Book of Hours may have stood like a lone candle to warehouse-sized claustrophobia, but it was its soothing intimacy of sub-atomic sound that reached a lease of greater warmth.
36. Grouper - The Man Who Died In His Boat
To class Liz Harris' work as a precarious tightrope act of semi-ambient acoustic production, would perhaps incur some non-existent mistranslation in 2013's The Man Who Died In His Boat's rewarding balance of vocal and instrumental immersion. Unlike fellow Oregon local Eluvium, Grouper's efforts prevailed in emphasising the melodic strength of chord changes alongside Harris' temperament of vocal harmonies. The Man Who Died In His Boat was Grouper's most fleshed out but spiritually captivating of her discography - building on the composer's weightless, layered productions, but so too standing as the first of many female composers this year to reevaluate the post-human liberty of vocals within - rather than away from - the isolated tundra to such a mysterious landscape of sound.
~Jordan Helm
35. Kurt Vile - Wakin On a Pretty Daze
Walkin on a Pretty Daze is Kurt Vile (and the Violators') most complete and accomplished album to date. It's Vile's fifth album, and fits perfectly in to his discography not just as the standout, but as his magnum opus. The flowing range of indie folk / lo-fi and everything in between makes for an eastern version of Mikal Cronin. It's psychedelic, it's fresh, and its vibe is just truly conceptual around the album's title. Instead of waiting to see what Britain produces in terms of folk / indie folk, just check out Walkin on a Pretty Daze, because I promise you, this album will not disappoint.
~Eddie Gibson
34. Braids - Flourish // Perish
Developing your sound can be rather difficult for even the most simpler of artists, but if you're an alternative musician, one question always looms: what next? Braids asked themselves this after the release of their debut album Native Speaker, and decided on a more electronic and bleaker direction. They took it to the extreme, by almost eliminating all guitar excerpts from their recordings, apart from the final track. The outcome isn't a Braids without their heart and soul, but a Braids with their balls firmly grasped ready for what audience, what critical reception, and what future holds beyond their sophomore album Flourish // Perish. They knew what they wanted to do next, and my god did they do it well – completely regenerating a sound, to be minimalistic, electronic, and timeless for the future.
~Eddie Gibson




33. The Flaming Lips - The Terror
As expected, The Flaming Lips make our end of year list. They always seem to end up on our lists (almost) every year, and for good reason. The Terror may sound like a confusing piece of experimentation on the ear, but under the exploding A-bomb-esque album cover, lies an album of genres too broad to cut down with a genre label. The Terror is so out there that it would be somewhat insulting to call this a neo-psychedelia album, and as demeaning to call it avant-garde. The Flaming Lips know what they're doing, and every time they put out an album, there's a certain level of surprise as to what the audience will get. And with this surprise comes the main factor to The Terror, and The Flaming Lips in general – it / they are ever-changing, and for the better.
~Eddie Gibson
32. Roly Porter - Life Cycle of A Massive Star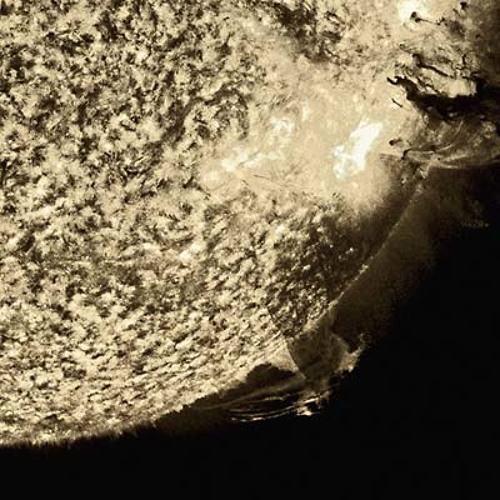 The glistening gold tone to the burning star on the cover to Roly Porter's Life Cycle of A Massive Star was a suited testament to the ambient producer's experimentally menacing scale of dark sounds. Across the album's five bright-burning mammoths of sonic tension, Roly Porter's spatial narrative of birth, expansion, implosion and death was finely detailed and a wonder to spectate. Like the almighty stroke of hotspots, plasma and rumbling nuclear fusion of our own sun, Life Cycle Of A Massive Star perfectly captured the atypical nature of such cosmic objects as much a malevolent, intense force as it is some public spectacle of awe to admire from a [safe] distance. In result, Roly Porter's point blank, no-holding-back offence of low frequencies, harsh flairs and rumbling transitions brought new meaning to the 'beauty' of solar affairs.
~Jordan Helm
31. Mazzy Star - Seasons of Your Day
With Mazzy Star, there's always an emotional connection to the music. It doesn't matter what era you're from or in, Mazzy Star will play to it. The dynamic duo of David Roback and Hope Sandoval have been a unitary team since the dawn of Mazzy Star, and their break from releasing music has only influenced the two on how they wanted Seasons of Your Day to sound. The outcome is an album worth the 17 year wait, with contributions from Bert Jansch on "Spoon" and Colm Ó Cíosóig throughout. Sandoval hasn't lost any of her vocal power, and Roback hasn't lost any creativity. Seasons of Your Day is an essential Mazzy Star album, one to go alongside the albums from the Mazzy Star 90s period – they were missed, and Seasons of Your Day is a way of repaying their audience for the long break.
~Eddie Gibson