On the back of what has been one of vinyl's most successful years in terms of sales for some time - the likes of Daft Punk and Boards of Canada to name but a couple helping boost sales of LP formats in 2013 - the official Record Store Day celebrations return for their seventh year in commemorating the growing strength, revival and continuing love for the classic format. Around the World, independent stores of all shapes, sizes and obscurities will join together on the third Saturday of April, which this year falls on 19th, in unison; cook-outs, live bands, giveaway's...there's no denying the party aesthetic is as much prominent and high in volume as the transactions will be for those exclusive, lucrative and (unfortunately for some) quick-onto-eBay releases. Be it LP's (re-issued or otherwise), EP's, 7"'s, 12"'s, or quite possibly anything else audiophiles will sought to acquire, the list (unveiled last Thursday) is more than 600 strong in number. And while you can read up on the full list here, MRD has taken to offer some of our own more personal choices which may be worth that small investment for that precious spin on the turntable back home...
CHVRCHES - We Sink 7"
The last and most recent single to come out of the Scottish trio's acclaim-grabbing debut last year, We Sink is without question a gem in many a gleaming trove of splendid synth-pop goodness. And while it may not be new material or anything with band-focused additions, the B-side includes a pair of remixes to accompany one of the band's more emotive and immersive tracks of what was a fascinatingly spectral album last year.
~Jordan Helm
-
Various Artists -
The Space Project
7" Box Set
Space rock has never been so obviously applied to a variety of artists, or as it may seem on this compilation featuring Spiritualized, Beach House, and The Antlers amongst others. 14 artists have contributed to this album which takes sounds from outer space, allowing the special 14 to be creative and work their way around a little sound clip. Its Eno sampling at its finest, as The Space Project takes from sounds recorded by Voyager 1 and Voyager 2 launched by NASA in 1977. The Space Project will be released by Lefse Records on most formats.
~Eddie Gibson
Django Django - Porpoise Song 7"
A Monkees cover? But of course! For a band relishing in that fresh-air, surf-pop sound, Edinburgh's finest seem more than at home. No audio yet as to what this marvel sounds like; have a listen to the original for the time being, but with confirmation of Django Django curating the latest Late Night Tales compilation, is this colourfully slower, reclined effort a sign of what may be lying underneath those thinking caps regarding LP2? If their tour dress-code is anything to go by, we sure as hell should be preparing ourselves, at the very least.
~Jordan Helm
-
The Field - From Here We Go Sublime 2LP (Re-Issue)
Back where it all began, Axel Wilner's 2007 debut sent shockwaves through the electronic community when it brandished techo-flavoured voyages devoid of concrete progression. Seven years down the line and The Field has made himself into one of contemporary electronica's most polarizing but intriguing producers of the past decade. It's only fitting that a seven-year-old record gets its re-issue on this the seventh celebration; From Here We Go Sublime though not the crown in Wilner's work, remains an album of acute prominence and repeatability..
~Jordan Helm
-
Parquet Courts - Sunbathing Animal 7"
Fanatically repetitive post-punk rockers Parquet Courts will release a single titled Sunbathing Animal come Record Store Day on Rough Trade Records. The quartet who are signed to What's Your Rapture? haven't yet put out any form of clip to what this single will sound like – but via a YouTube live recording, it sounds far more aggressive and punk related than ever before. In a heavy Brooklyn music scene, Parquet Courts are slowly taking over from Crystal Stilts as the go-to post-punk / repetitive biological krautrock band.
~Eddie Gibson
-
Liars - Mess On A Mission 12"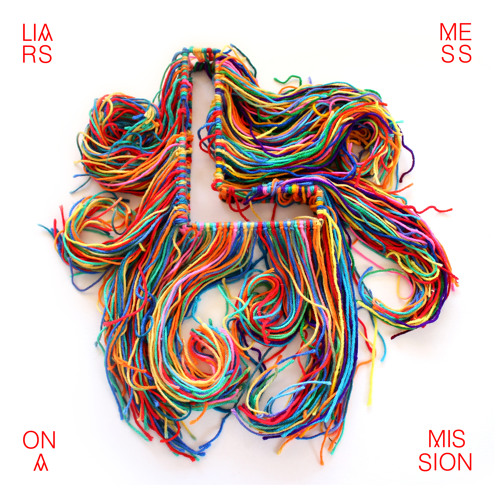 Our review of Mess is on its way, and while we remain awaiting its eventual [legal] drop, the fantastically frantic stir of Mess On A Mission is available for one-time-only as a 'string embedded' 12". The clear vinyl sees the album's art direction - a convoluted trail of multi-coloured string - run havoc, quite literally. Not surprising, this is a perfect fit for Liars; a band renowned for pushing the envelope. Mess On A Mission is insanely maddening, and from the looks of it, any Liars fans would be insane not to catch this little beauty while it's out.
~Jordan Helm