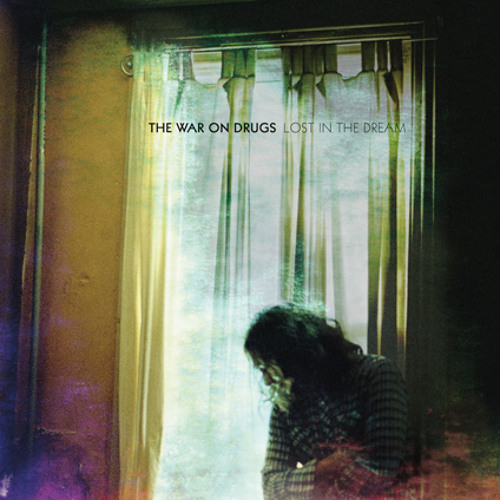 As a man from the Isles, the British Isles, I can't for one second comment on the impact and sensation that that infamous mid-America stretch can leave on a person in a psychological persuasion. You know what I'm talking about: dusty roads, infinitely-stretching landscapes, baron ambiguity in which anything or nothing could be waiting. Sure, we have our landscapes and tundras here on the other side of the Atlantic, as well as some equally-sensual experiences with similar environments (urban or otherwise). But that great outdoor plain, the plain...it's not something you can dissertate over as an outsider. Our only hope, our only look-in, comes from the likes of Adam Granduciel's The War On Drugs; an audio transcript detailing the endless roads to that middle-America zone of which spells out in the most brisk, but scorched of scriptures that this variant of the Americana sound can usher out. Slave Ambient in 2011 found Granduciel meet it - meet all of it rather - with an interesting take on uneasy fratulence. This wasn't some kind of inescapable tension or blind confusion that, say, UK electronic music has come to colour such moods in millions of swatches of whiltering grey over. By contrast, The War On Drugs - be it of Granduciel's design or the identity's own deliverance - emits a much brighter hue and tone to these feelings of uncertainty and the unbeknownest future.
We don't have to invest much more than a look at the cover to Lost In The Dream to draw enough of an aspiring concept of what the Pensylvanian singer-songwriter is experiencing, to already feel like we're about to set-off on that grand interstate journey. Psychadellic-like trawls of pale, shifting moods; a strenuous position aside a window; the looming border of dark. Even the title: oxymoronic or simply a stating of Granduciel's struggle to part from the dusty sonic territory he's come to define? A more advanced looking into the tracks' lengths - all but one averaging around five minutes - and you get a better idea that The War On Drugs may in fact be just that in its title. Is it lost? Is the album itself caught so bewilderingly and distantly in its own visions that he himself knows not how to solve it? But it's not the erratic drum machines that greet us in opener Under The Pressure that cement this record's startled debate. Rather it's Granduciel's impressive mix of instrumentation - from the up front solace of piano keys all the way to the grazed bass lines - that allows the front-man's soothingly faint tone of voice to further the need for exploration of this vast sonic space. And together with the track's curling guitar lines and dust-whirling treating of effects subtlety rising and falling in place, the journey feels more than already underway.
From thereon, like the synthesizers that open Red Eyes thereafter, Granduciel's feelings turn introspective on personal reflection, while the billowing loft of instrumentation around him continue to churn in that same robust, almost hump-back motor of rhythm and pace. Throughout, Granduciel's words feel deliberately half-set and not quite fit to place: 'On my way/Beat it down to get to my soul/Against my way.' and yet the glare and sheen of colour that the guitars and accompanying synths use to emphasize Granduciel's eventual release from out these cavernous thoughts, allows the lyrics their free-forming vagueness without coming off incomplete or vacant. What's more is that the melodies that we are given in-between passages are so striking and captivating that Granduciel's deliberation (either into his mindset or away from it) generates a lot more of an emotional engagement with the listener. And despite the vagueness and minor opportunities we get to try and decipher the man's state of mind or even attachment with the song's sprawling lead of sound, songs like Suffering - which showcase a slower, more intimate arrangement of percussion hits and guitar play - give Granduciel the time and moment to simply let his thoughts trickle out and drift off with little care as to the allotted time.
It's this that stands as one of the biggest positives of this album, and something of which The War On Drugs achieves with resounding, and impressive, detail. It's this particular use of length - of progressing and evolving the music beyond the convention of gaps between vocal passages and verses - that leaves an impressionable mark. An Ocean In Between The Waves is one of the longest compositions on here, and yet despite its seven minute stretch, the speeding, drastic tempo of drumbeats mixed the washed-out swirl of colour in the multi-layered guitars results in one of the album's most visually-compelling sonic efforts in a track arguably more barer than any other song here. There's a distinctive Neu! feel about it; the 2/4 drum rhythms; the exploratory guitar leads; even Granduciel's breathy-yet-fluid strength of vocals...a clear influence for the Philadelphia man to express sure, but he manages to build on this repetitious style - gradually increasing the boldness of the main guitar riffs and surrounding reverb that sneaks its way into the listener's surroundings without ever pointing itself out.
Use, not abuse; again, another recurring comment that crops up with humble satisfaction when listening to Granduciel's methodology of instrument arrangement to further push the track's visual appeal without over-saturating or losing the intensity of any of the lead melody or narrative.
Disappearing is another case where The War On Drugs instinctively strives for the mood and overwhelming feelings of the time regardless of how technical or complex its synths are handled or its drumbeats are portrayed. In both cases, their minor in fortitude - simple strokes of bar-long chords and half-bar percussion (of which ripples rather nicely in the backdrop throughout) - and despite the subtraction of Granduciel's presence (be it a subtraction caused by his vocals' less crisper detail and timbre about the mix), the weightless freedom of the track remains all the more aspiring and involving for me to simply get lost in. Greater still is Eyes To The Wind's fulfillment of that new-found freedom, even if the freedom-in-question, sadly, is of moving from one melancholic state to something all-the-more unknown and potentially unforgiving - Granduciel proclaiming that he'll '
set my eyes to the wind/But it won't be easy to leave it all again/Just a bit rundown here.' all the while offering a chord progression and melody that outright reflects the looking-forward endearment while at the same time noting the looking-backward struggle it also creates. Admittedly though not all of the album's more abstracted strides in the psychedelic and dust-ridden wastes create the same liberating feeling of escape.
As is the case on The Haunting Idle, despite its intriguing mix of guitar distortion and synthesizer experimentation you'd expect similarly from 70's German archetypes, the lack of a coherent narrative or straight-forward direction pulls the track down slightly. Even the refrain from moving away from this baron, eye-scrunching translucency that has flowed across the majority of the album thus far more-so prevents me from viewing this piece as standing out in its own right. What it does though is blend nicely into following track Burning which this time creates a more bubblier build-up in its synthesizer rhythm and flotilla of pads that sweep cleanly away as soon as the track embraces what is a fruitfully rawer and more striking alternative to the album's sound and production previous. So too Granduciel's vocal delivery and expressions are much brighter and energized - choruses matching the instrumentation's rhythm. With In Reverse, The War On Drugs take the opposite approach and, initially from what we hear, decide to simmer the album's closing stretch to a more ambient and laid back approach - brisk sounds of waves tumbling in the background as Granduciel offers both a subtle strum of acoustic guitar to sweep the track through. So it creates a much greater impact when the track suddenly bursts and roars into life like the strolling ocean currents have suddenly transformed into heavy collisions when the guitars liven up and the drumbeats kick in to the sound of Granduciel fittingly declaring: 'We're just living in the moment, making our path.'
Though the criticisms of this record are marginal in size in comparison to the album's compelling scale, these less-appeasing elements do roughen the edges to what potentially could have been one of the most extraordinary and near-faultless albums thus far of the year. Needless to say though that Lost In The Dream is not only The War On Drugs' most driven sound in Granduciel's career as both the primary song-writer and architect of this identity, but against the tirade of low-fidelity and psychedelic wavering amassing at an alarming rate in recent years, this is an album that treats its space and means of passage with the same decency and respect as the melodies that pour out in vast quantities across the ten track recording. But what's more is that despite all this vague conception of space and distance - amidst all the dust and sandstorms littering Granduciel's kraut-Americana fusion (a small proportion admittedly pulling down on the album's vast height of achievement unfortunately) - the Pennsylvanian's lyrical torment and anxiety for both the abandoned past and coming future are clear to see. Amidst the colourful blasts of distortion and venture, Granduciel's presence - the driver to what is our own shotgun-riding observance - is what allows the album to run its natural course, melancholic or otherwise.
~Jordan Helm
8.3