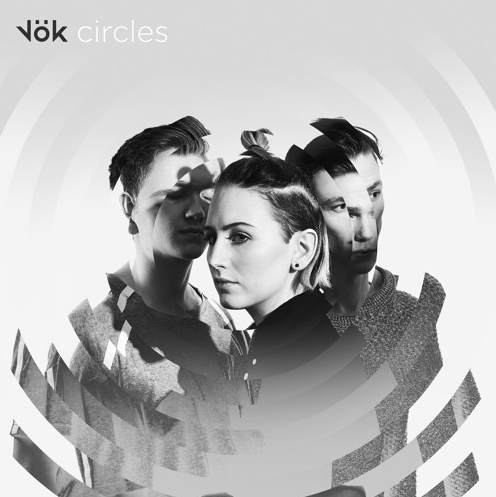 Vök's music is continuously evolving from minimalism to a fully operational electronic project with sustenance. Where their first few tracks excelled in song-writing and production, they lacked in depth - offering up minimalism, though to the extend where percussion had become devoted to a singular instrument; be it the electric guitar on "Before", or the saxophone in "Ég bíð þín". Vök have moved away from this singular-instrument heavy material; it's probably for the best. Many artists make this change for creative reasons, but for marketing reasons too. Braids are a perfect example of a dream pop styled guitar heavy artist who dropped electric guitar to pick up electronic based instruments supported by strong production techniques. Although Vök are not similar in style, they're making this progression, completing their own circle - creating songs with purpose, character, but most importantly - substance.
You find this on every track, specifically the addictive "If I Was". They've really excelled in building a song based on simplicity and individual notes. "If I Was" is draped in character from the two-note / three-note synthesizer, to the vocal timings. That's correct, vocal timings. The lyrical progressions found on Circles speaks louder than David Gilmour's new album. It lets of the sense of professionalism, knowing full well that Vök, without even releasing a full-length album, seemingly fit within an industry built on experience and privileged social media campaigns. They combine the beauty of raw technical skill with electronica; without focussing on individual instruments as a frontrunner. Every atmospherical guitar riff, every refrain and high-pitched vocal - it just comes together as an explosion, all within three minutes, in what seems to be 30 seconds. That's how you grab hold of your listeners, by perfectly building a track from the first to the last seconf, filling it with meaningful instrumentation. If you're an aspiring electronic musician / producer, let "If I Was" be your benchmark; a truly captivating track.
If you think Vök cram a lot in to "If I Was", then the five minute "Waterfall" will seem like a century. It's the opposite in terms of captivating music to grab you by the scruff of your neck. That's not to say "Waterfall" is weak, that couldn't be farther from the truth. The slower, quieter (in terms of patience) electronic / ambience tracks are often the best - Slowdive's "Rutti" is potentially the perfect example of this. Like "Rutti", Vök's "Waterfall" is created and positioned first on

Circles intentionally as the opener. Deep in wind chimes and whispered vocals leaves the listener deep in thought.
"Adrift" offers something different to Vök's output. It's somewhat stark in comparison to "If I Was", again carrying on from "Waterfall" with calm instrumentation. "Adrift" actually offers different musical comparisons in my strange brain. I hear Spyro the Dragon's ambient night levels, and Leonardo DiCaprio in the sunset beaches of... The Beach. Here we find a lucid, and much more focussed Vök from the somewhat archaic "If I Was". The saxophone returns as a background instrument - where it's without question stronger. It's similar to the closing self-titled track "Circles"; mixeing the best moments of "If I Was" with the characteristics of "Adrift" - perfect vocals and song structure, with the angelical sea-like instrumental we've come to associate with Balam Acab. This is what you get with Vök, mixed emotions and mixed compositions. Nothing is ever bland in their output. Even their previous EP

Tension

shows the signs of an artist ready-made and technically proficient. They're taking huge strides with their music, still - Vök is an artist designed for the cold winter months and dark autumn evenings. It's time for the eagerly awaited debut album, but I'm sure with their fast growing fan base, any material will be earned material for their listeners.
~Eddie Gibson