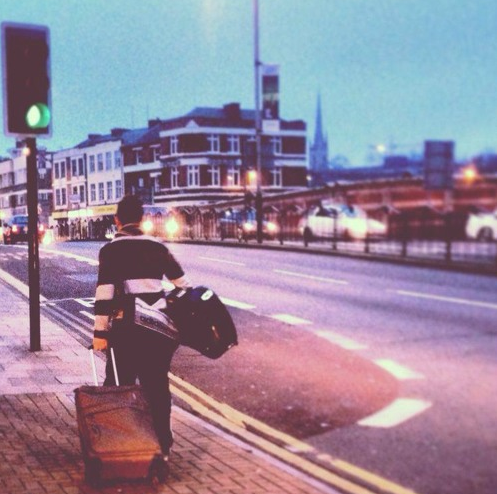 It's important to give local music attention, and although many of our readers are from Brazil, Russia, yeah and even a bunch of Latvians; but we still get the odd view from the home nation, home county, home. With MichaelVickers; there's a sense of nepotism involved, and I'm a great opposer of nepotism, it's rotten to the core - but having only glanced over Vickers' music for a while, stumbling across his recent material has really motivated me to listen more keenly and take in the differences to his early recordings.
Without being too dismissive of his earlier work, Vickers has certainly matured and progressed in his chosen profession, his song-writing; definitely an improvement from songs which I imagine were thought of, and written while planning 12:30pm lunch at Groby CC. "WhenI'm Back Home" is a complete package of singer-songwriter styles loosely defined as acoustic within the community. Vickers' strength is telling a story, and he depicts a sombre tale of Leicester, specifically leaving Leicester on the train. A unique set of lyrics appearing more sorrowful the more it's heard. There's great use of electric guitar accompaniment, and of course as expected it's well produced.
Where we're from and where we live defines us, shapes us to be the person we become; and as Vickers writes songs linked to the things he knows, the places he knows - as a supporter of
local music and giving time to music closer to home i.e. people I've known like with

Stefan Carter's

mix and

Steve Roe's

beats, Vickers is a welcomed member to the ex-Brooky community of musicians.
-Eddie Gibson